The heart of any home, the kitchen, is a space where functionality and aesthetics unite to create a harmonious environment. In the world of kitchen fixtures, one item stands out for its ability to seamlessly blend style and practicality: the wall-mounted kitchen water tap. Now TEIMA will share the functionality of these faucets, which have become a sought-after choice for modern kitchens.
What is Wall-Mounted Kitchen Water Taps
A wall-mounted kitchen water tap, or

wall-mounted kitchen faucet

, is an elegant and space-saving fixture that is affixed to the wall above the kitchen sink. Unlike traditional faucets that are mounted on the sink or countertop, these taps offer a unique approach to delivering hot and cold water for a variety of kitchen tasks.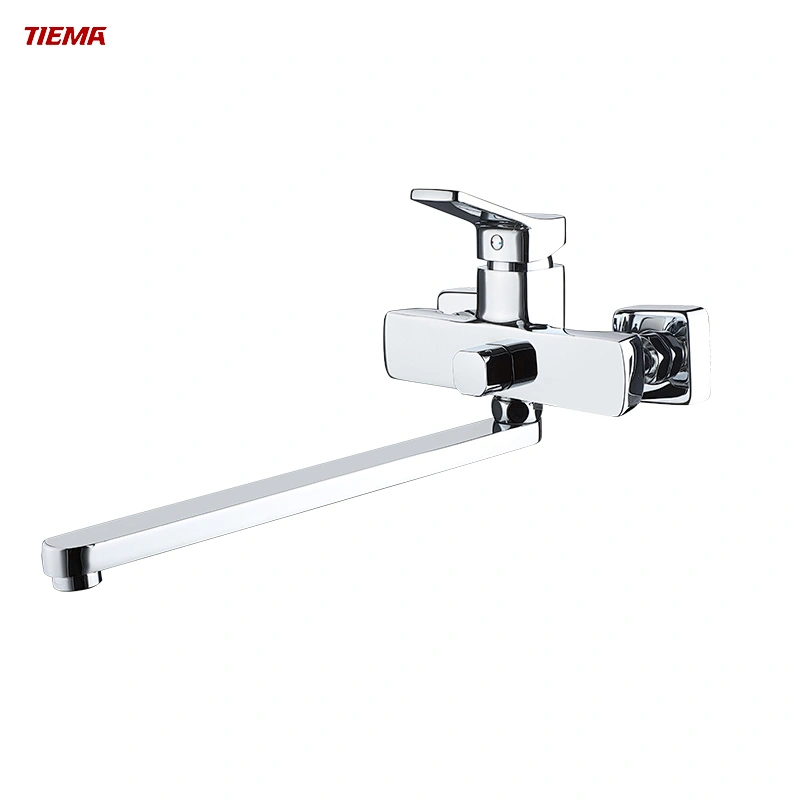 Troubleshooting Wall-Mounted Kitchen Water Tap Issues: Solutions at Your Fingertips
In the bustling heart of the home, the kitchen, the wall-mounted kitchen water tap takes center stage. Sleek, space-efficient, and modern, these fixtures have become a preferred choice for many households. However, like any essential component, they are not immune to issues. In this article, we explore common problems that may arise with wall-mounted kitchen taps and offer practical solutions to keep your culinary haven running smoothly.
1. Leaking Woes: The most common issue homeowners encounter with wall-mounted kitchen taps is leaks. These can manifest in various ways, from water seeping around the base of the faucet to dripping from the spout. Leaks typically result from worn-out seals, O-rings, or loose connections. To address this issue, consider the following steps:
Inspect for Loose Connections: Carefully check all the connections for any looseness. Hand-tighten connections as needed but be cautious not to overtighten, as this can lead to damage.
Replace Seals and O-rings: If you identify worn-out seals or O-rings, these components may need replacement. These parts are typically inexpensive and can be found at most hardware stores.
Professional Assistance: For persistent or challenging leaks, consider seeking the expertise of a professional plumber who can diagnose and resolve the issue efficiently.
2. Low Water Pressure: Another common problem is reduced water pressure. This can be attributed to mineral buildup or debris clogging the faucet's aerator. Here's how you can restore optimal water pressure:
Clean the Aerator: Remove the aerator at the end of the spout and clean it thoroughly. Soak it in a vinegar solution to dissolve mineral deposits and debris. Rinse and reattach.
Check for Clogs: Examine the water supply lines and valves for any blockages. If you find any, clear them to allow unrestricted water flow.
Water Softening: Consider using a water softener if your area has hard water, which can lead to mineral buildup in fixtures.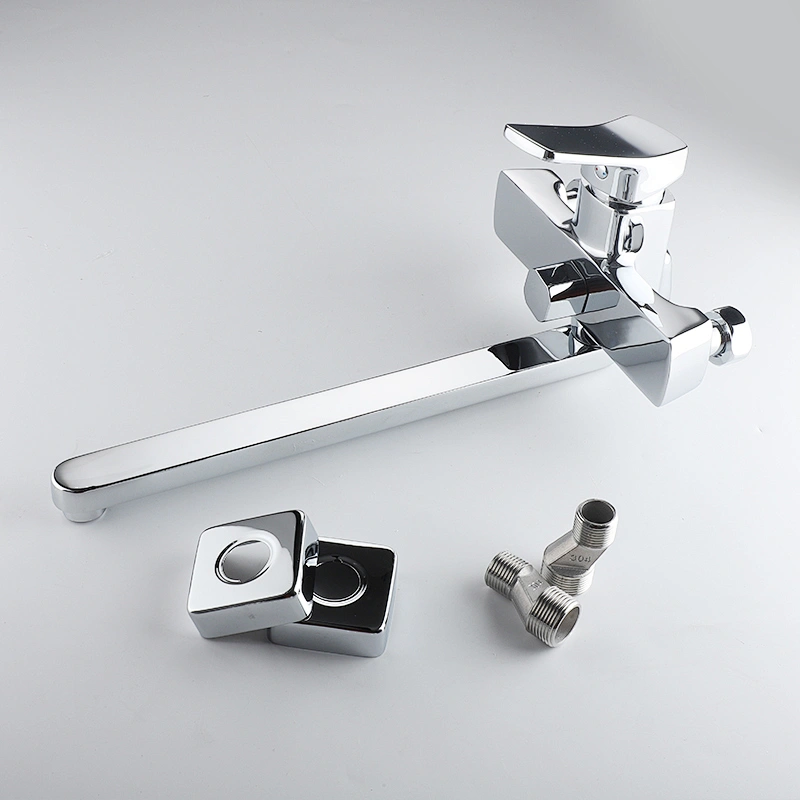 3. Dripping Handles: Dripping handles can be an annoyance and are often due to worn-out cartridges or valve components. To stop those incessant drips:
Replace Faulty Parts: Identify the problematic component, which may involve the cartridge or valve components. Purchase the necessary replacement parts and follow the manufacturer's instructions for installation.
4. Handle Stiffness: As time passes, handles may become stiff, making it challenging to adjust water flow and temperature. Proper lubrication and cleaning can provide a remedy:
Regular Cleaning: Clean the faucet handles and any visible components with mild soap and water. Remove any accumulated dirt and grime.
Lubrication: Apply a silicone-based faucet lubricant to the moving parts of the faucet. This helps ensure smooth handle operation.
5. Corrosion and Rust: Taps exposed to moisture can develop corrosion or rust, particularly in areas with hard water. Prevent these unsightly issues with these measures:
Water Softening: Consider installing a water softener to reduce the mineral content in your water, which can contribute to corrosion.
Regular Cleaning: Routinely clean the faucet with an appropriate cleaner to remove any water spots or mineral deposits.
6. Installation Problems: Correct installation is vital for the trouble-free operation of a wall-mounted kitchen tap. If you suspect an installation problem:
Seek Professional Assistance: Contact a qualified plumber to inspect the installation and make any necessary adjustments. Proper installation ensures stable and leak-free performance.
7. Wall Structural Issues: Some wall-mounted taps require additional structural support within the wall to bear their weight. Inadequate support can lead to wall damage or instability. Here's how to address this problem:
Professional Assessment: Consult a professional plumber or contractor to assess the structural integrity of the wall. Additional support may be required to ensure the faucet is securely mounted.
8. Worn Cartridges: Cartridges within the faucet can wear out over time, leading to problems such as dripping, difficulties in adjusting water flow or temperature, or even irregular flow. To resolve cartridge-related issues:
Replace the Cartridge: Identify the worn-out cartridge and obtain a suitable replacement. Follow the manufacturer's instructions to install the new cartridge.
9. Water Temperature Fluctuations: Inconsistent water temperature can be frustrating. Fluctuations are often due to problems with the valve mechanism. Here's how to maintain temperature control:
Adjust or Replace the Valve Components: If the valve components are causing temperature fluctuations, adjusting or replacing them may be necessary. Follow the manufacturer's recommendations.
10. Frequent Repairs: If your wall-mounted kitchen tap requires frequent repairs or develops multiple issues, it may be an indication that the faucet has reached the end of its lifespan. In such cases, it might be more cost-effective to consider a replacement.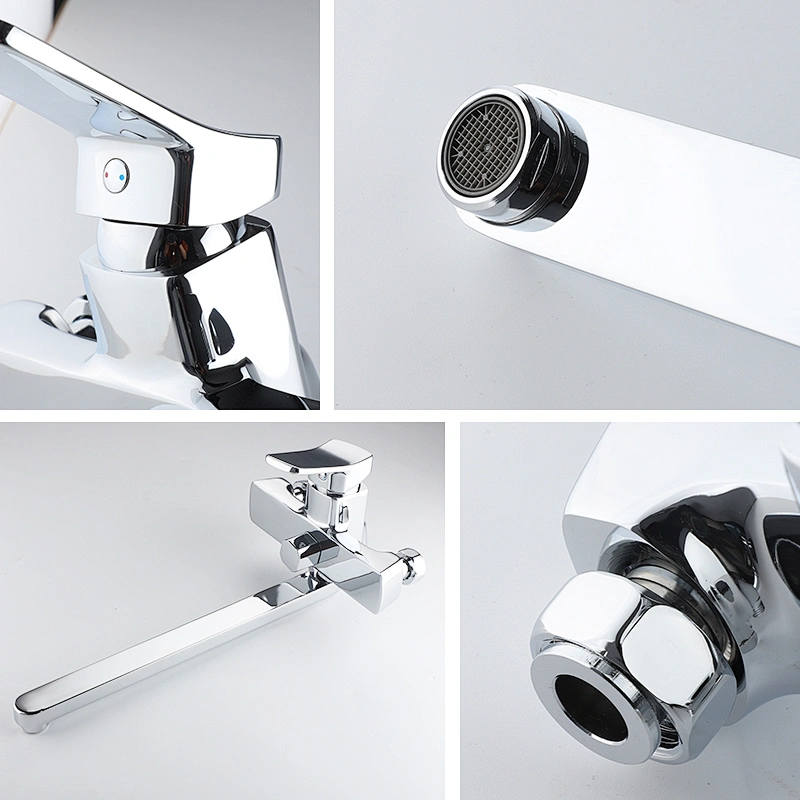 Wall-Mounted Kitchen Water Taps Installation and Maintenance
While wall-mounted kitchen water taps offer numerous benefits, their installation can be more complex than that of traditional deck-mounted faucets. It often involves plumbing connections inside the wall. For this reason, it is advisable to enlist the services of a professional plumber to ensure a proper and leak-free installation.
Routine maintenance for wall-mounted kitchen taps is similar to that of other faucet types. Regular cleaning with mild soap and water prevents mineral buildup and keeps the fixture looking its best. If any leaks or issues arise, it's wise to consult a professional plumber for timely repairs.
Wall-mounted kitchen water taps offer a space-efficient and aesthetically pleasing solution for kitchens. With their clean lines and flexible spout designs, they can complement a range of kitchen styles. Whether you have a deep sink that demands a high-reaching spout or simply want to create an uncluttered countertop, these taps are a versatile choice that embodies both form and function.  If you're planning to upgrade your kitchen or are in the midst of a kitchen remodel, a wall-mounted kitchen tap may be just the solution you need to enhance both the look and efficiency of your culinary haven.
The Key Features of Wall-Mounted Kitchen Water Taps
Space Efficiency: One of the standout advantages of a wall-mounted kitchen tap is its space-saving design. By eliminating the need for a faucet to be mounted on the sink or countertop, it frees up valuable workspace in the kitchen. This added space makes food preparation and cleaning tasks more convenient.
Contemporary Aesthetics: Wall-mounted kitchen taps provide a sleek, uncluttered look in the kitchen. They create a minimalist and modern appearance that appeals to those seeking a clean and sophisticated kitchen design.
Flexible Spout Design: These taps come with various spout styles, including straight spouts, gooseneck spouts, and pull-down sprayers. The choice of spout design allows users to select a faucet that aligns with their kitchen's functionality and style.
Large Sink Compatibility: Wall-mounted kitchen taps are an excellent choice for deep or farmhouse sinks, which require a higher spout height and reach. The wall-mounted design ensures that water can be directed precisely where it's needed, making it ideal for washing oversized cookware and filling large pots.
While wall-mounted kitchen water taps bring elegance and efficiency to your kitchen, they may encounter common issues over time. Regular maintenance, cleaning, and prompt repairs can keep your tap in top condition. For complex issues or persistent problems, don't hesitate to seek the expertise of a professional plumber to ensure the longevity and functionality of your faucet. With these solutions at your fingertips, your culinary space can continue to shine with style and utility.